Photos: Jay Fortin
Words: Big Truth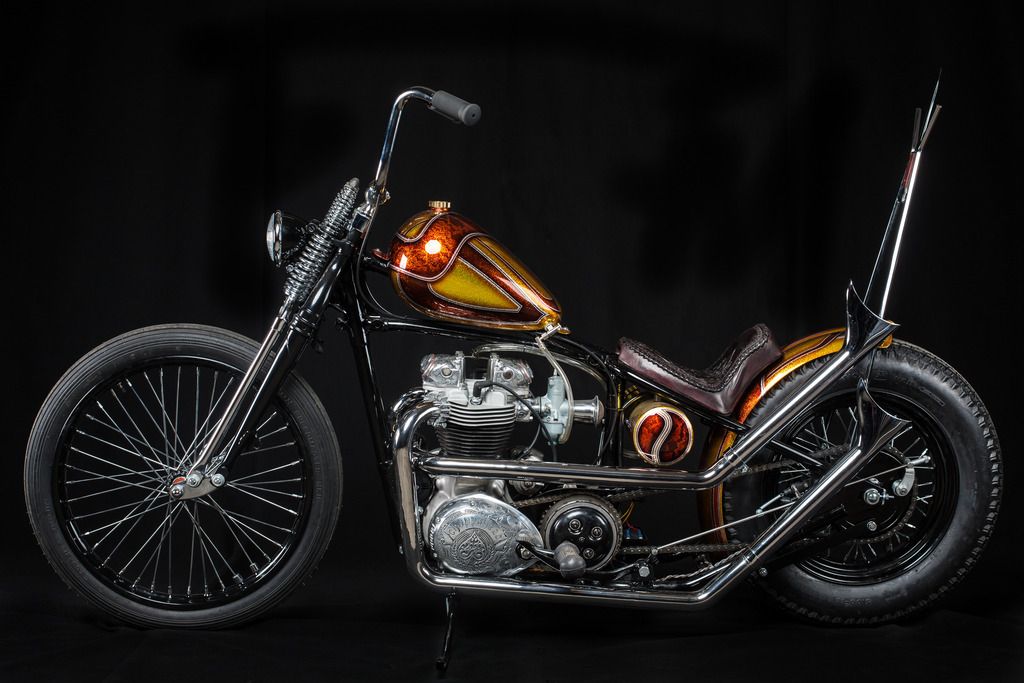 We built this bike for our friend, Johnny Bang Bang, out in the backwoods of Rhode Island. He came to us with a wad of cash and the desire for a badass pre-unit Triumph. So, we got to work turning this into reality.
We started with a pre-unit basket that we had sold to one of our former apprentices. He was having a kid and needed to free up $$$, so we bought it back from him as the starting point (it was a frame, engine, tranny, and wheel).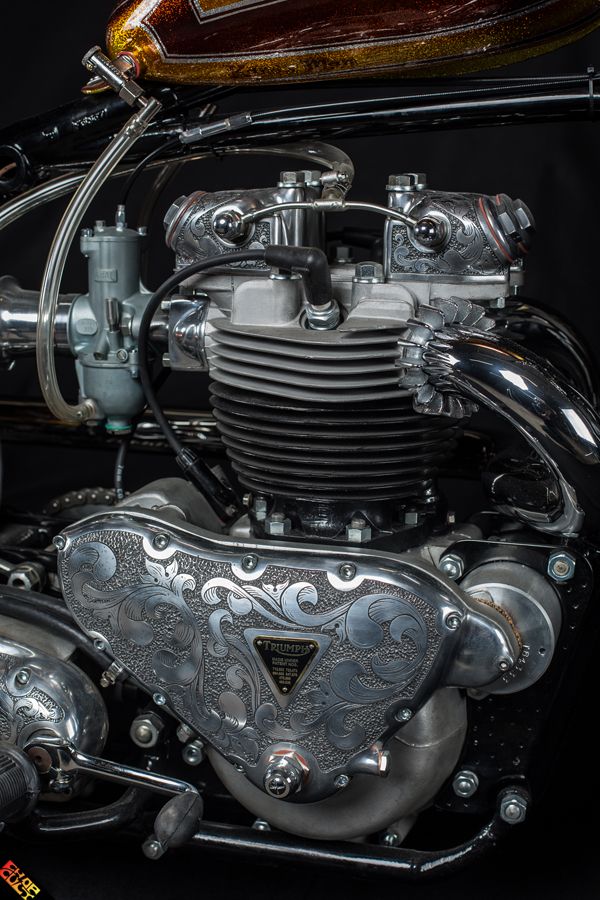 So, we started from there. Basically, we wanted to head in the direction of a simple, clean, but ornate late 60's style show chopper. We cleaned up the frame and mounted one of our unit hardtails to it. The gas tank is an old Axed Alien tank that we had at the shop. The rear fender is an old original 1930's spare tire cover for the rear fender. The oil tank is one of our aluminum domed end oil tanks. We fabricated the custom seat pan and it was covered in hand-tooled leather by Jay Fortin.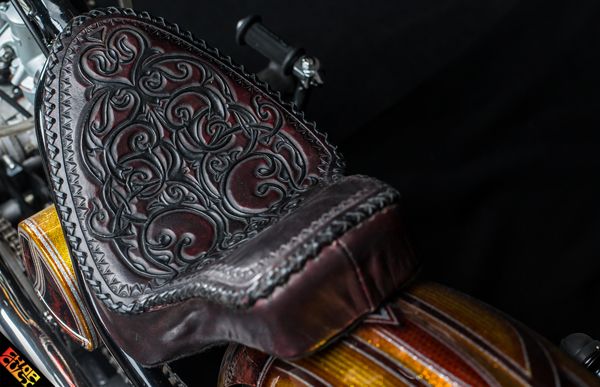 We were originally going to use an OG bayonet sissybar that we had at the shop, but decided to fabricate a new one with our own twist. All the ones we've ever seen from back in the day had the bayonet or sword pointing down. We have ours pointing up as the 3rd prong. We used an AK-47 bayonet for this and hex stock for the rest of the sissybar. We also made the exhaust in-house and used some Paughco fishtail tips that we had hanging around to cap them off. The handlebars were our design, and we had our good friend, Arie Vee (Vee Mfg), bend them up for us. The taillight is a Mini-Lucas style light, mounted to one of our light/plate brackets.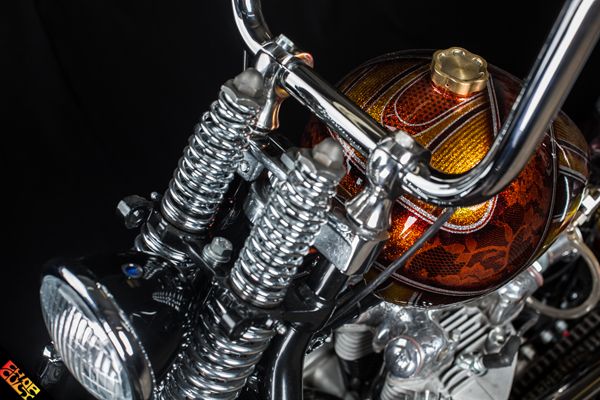 The front end is a replica big twin inline springer, the rear is powdercoated black. The front fork and springs were chromed. Front wheel is a 21" spoolie. Rear is a 16" HD wheel spoked to a Triumph hub. Avon Speedmaster rubber on front and back. Rims were laced with stainless Buchanan spokes by Gary at Gary's Custom Wheels.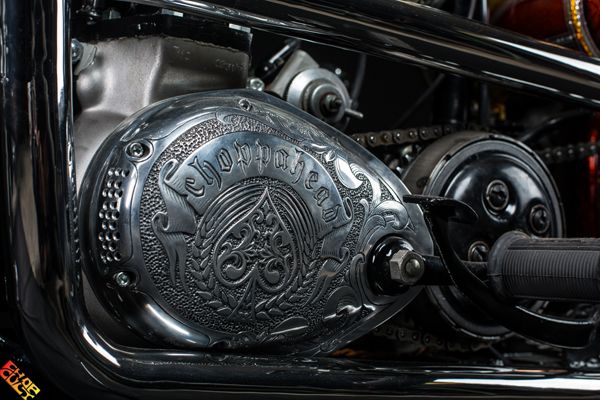 We rebuilt the motor and transmission from the ground up. It's a 1957 pre-unit engine, bored .60 over. New Amal 930 carb. Spark is from a rebuilt Lucas magneto. We cut up / trimmed down a pre-unit primary cover to have it run open style.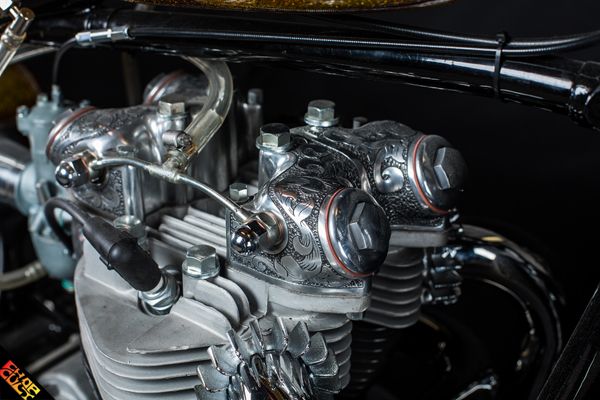 All chroming (front end, handlebars, pipes, sissybar) was done by Brown's Plating. Powdercoating (rims, hubs, frame, brckets, etc) was handled by Goodhue's Powdercoating. Paint by Kandy Man and the engine covers were engraved by John Huff.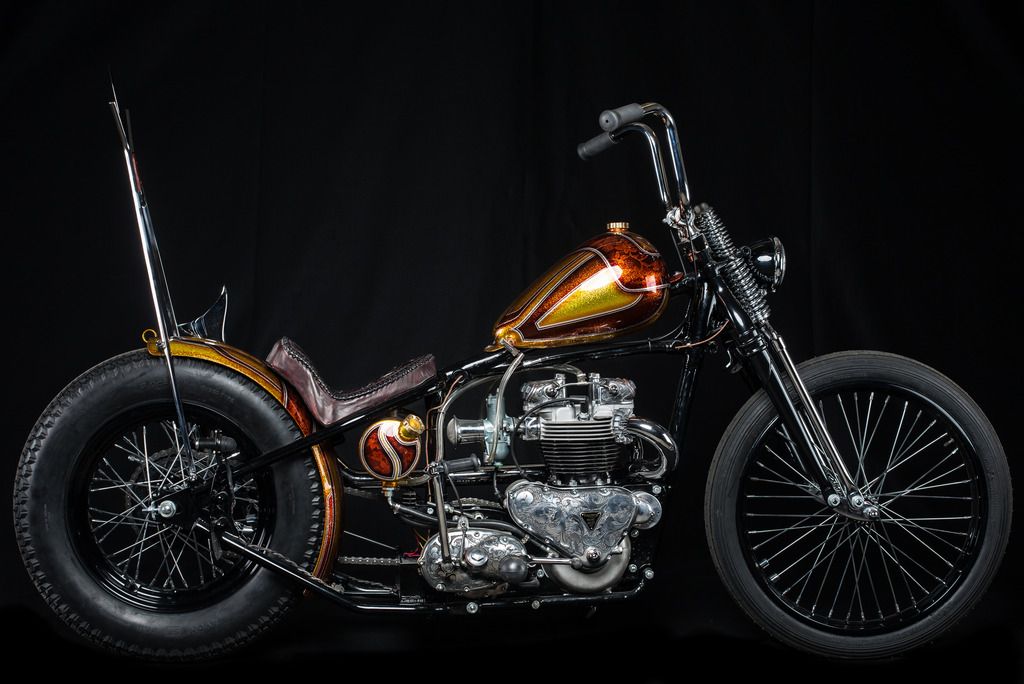 All in all, we're pretty stoked with this bike!